Searching for a web hosting provider for your website?
Well we have put together some information on what to look for, as well as what to look out for, when finally deciding on which website hosting provider to use. As we have been providing web hosting for over 10 years, we have a great deal of knowledge of the web hosting industry in NZ.
The process of choosing a web hosting provider can be a rather confusing process, if you don't know what you are looking for. There are many web hosting providers out there. Some are very good, but a very large number of them are not. This can lead to constant periods of website and email downtime if you happen to choose the wrong provider. It is very important that you do choose the right web hosting provider first time around, as transferring to another web hosting provider at a later date, can be a real hassle, as well as very time consuming.
We have therefore produced this web page to help demystify what website hosting is, and to highlight some of SuperHost's advantages over many other hosting providers. A lot of this information is what many other website hosting providers wouldn't want their clients to know, and it helps to explain why some hosting providers prices are simply too good to be true.
Top reasons why people choose SuperHost:

100% Kiwi Owned Company based in Wellington.
We have been providing hosting since 2001. That's over 10 YEARS!
No Setup Fees.
The Worlds Leading Hosting Control Panel (cPanel™) more»
Comprehensive Linux Hosting Options. more»
Both New Zealand and Quality US hosting server options.

We don't use cheap Asian or Eastern European providers, unlike many other providers.

more»
We provide inexpensive hosting, but it's by no means cheap hosting. We offer some of New Zealand's best value hosting plans on high quality and powerful server networks. more»
Tier 1 internet connectivity. more»
Hosting Control Panels with ALL Web Hosting Accounts. more»
Long Term Sustainable hosting and pricing. more»
Unmetered hosting options. more»
Comprehensive knowledge of hosting and domain names.
Web Hosting Defined:
What a web host is can be very easily defined. A web host provides a location for their clients to store their website. The location is called a web server, or server network, which is a computer or series of computers, that are permanently connected to the internet, via a very high speed connection. Usually web hosts will lease or own the server, or a collection of servers in a datacentre, where the servers are permanently stored. The data centre (sometimes spelled datacenter in the USA) is where a large collection of servers are located, and the datacentre network provides the servers with fast and reliable internet connectivity to the world. As well as this, data centres are also secure and closely controlled and monitored buildings. They also have emergency power backups, in the event of power failure, to allow the servers to be up and running at all times.
You DO get what you pay for with Website Hosting.
"if you pay peanuts, you will get monkeys"
The fact is, not all web hosting providers use the same type of quality hosting servers or have their server connected to top quality network providers. Many of the cheaper web hosts will lease low spec hosting servers to host their clients website's on. These servers can lack processing power, and may have very poor reliability. However the upside of this, is that the web host is able to offer very cheap hosting prices (at least for a short time). It is true that many website's don't require much in the way of computer processing power, as many are static brochure type websites. However if your website resides on a server with other website's that do use a significant amount of server processing power, they could potentially overload the server, especially if the server is 'oversold (discussed below)'. This would then affect all website's on the web server including your own. All SuperHost's cPanel™ servers are high spec Intel Xeon or Dual Core Dual Opteron webservers, and are connected to top level network providers. Many cheaper hosts you will find will host their clients on lower spec Celerion or Pentium webservers, and use lower level network and bandwidth providers to cut costs. Some very cheap hosts may even locate their servers in their own house, so make sure you find out where their server is stored, and bandwidth providers. Learn More about the Network we use»
Almost all budget web hosting providers will also 'Oversell' their web servers diskspace, to maximise their profit. Thus the web host will try to fit as many website's as they can onto the server. They can do this because they expect that many of their customers websites will use very little in the way of diskspace that the hosting plan has been sold with. This can mean that the web host could literally fit many thousands of website's onto a single server. This may create a problem overtime as their clients on the server use more and more diskspace and processing server power, which could end up affecting all of their clients website's that use the server.
Much of the money that you pay to host your website, goes into paying for the web hosting staff. Human labour is the most expensive aspect of providing website hosting. Many cheaper web host's, contract out much of their labour to foreign countries, such as India and Malaysia, due to lower cost of labour in these countries. Some companies claiming to be NZ web hosts, don't even have their staff based in New Zealand at all. SuperHost doesn't do this and all the staff we employ are New Zealand located.
Many budget web hosting providers solely setup their company, to generate a large client base, and not to initially make a profit. This is so they can then onsell their company and clients to a larger company, which is where they will make their profit. The company that has then purchased the business, will then often raise their prices to more sustainable levels. We regularly get contacted by budget New Zealand web hosting companies, trying to sell us their businesses, and unless they are already offering long term sustainable prices, we are not interested.
Size doesn't matter:
Yes it's true. From our experience, the majority of website's use less than 50MB of disk space, and less than 1GB of bandwidth (data traffic) per month. There is no point going with a web host that offers more disk space or data traffic than what you actually are ever going to need. Some web hosts will offer incredible storage and bandwidth (data traffic) numbers, in an attempt to secure new hosting clients. They rely on the fact that the majority of their clients will never come close to using the specified amounts, and the ones that do push the limits, they will ask the client to move their website to another server, or even to another provider. They will usually use the excuse that your website is using excessive server resources for a shared server. This maybe true, but it is always good to check what capacity your host can provide to you before you join up with them.
Is 'Unlimited Hosting' really 'Unlimited'?
Many web hosting providers now advertise 'Unlimited' hosting resources on their budget shared web hosting plans. This may include statements such as such as 'Unlimited Hosting', 'Unlimited' diskspace and bandwidth, or 'Unlimited' websites etc. This however is often just a marketing gimmick, and you will probably find that they restrict their hosting resources, and the restrictions will likely be hidden in the fine print of their 'terms of service'. Either that or they will have a 'fair use' policy on the meaning of 'Unlimited'. We have yet to find a web host that offers true 100% 'Unlimited' web hosting, without any restrictions.
Most of these companies advertising Unlimited Hosting are not operating from inside New Zealand, so don't have to abide by the same type of advertising rules that we have here in NZ. These companies can advertise 'Unlimited' hosting, because they know that the vast majority of the people signing up to those hosting plans will only use a small amount of diskspace and traffic, as most websites use very little so they will never push the limits. However like most things, server resources are limited, and this is why you probably won't find any dedicated servers advertised with true 'Unlimited' resources. A web server has a limited sized hard drive, CPU, and memory, and is only able to cope with a certain amount of load and users connecting to that server at any one time. If a shared hosting plan is then hosted on one of these servers, along with with hundreds or thousands of other websites, how can something that is using just a fraction of a server be truly 'Unlimited', when the main server doesn't have 'unlimited' resources?

With shared web hosting, the main restriction is CPU usage, so unlimited hosts may not allow you to host power hungry scripts on your website, which could affect other users on the server. Some will also put restrictions on the number and/or size of the files you can upload to the server. Others may restrict the speed of traffic through the site, or the amount of server memory you can use. You may also find that if you happen to get a sudden influx of website visitors visiting you website at any one time, that your website may either load very slowly or go down altogether. Often if that happens, the web host will contact you to arrange alternative hosting, as they will say you are using more than your share of resources, and it is affecting other users on the server. In that case they will often either ask you to move to a higher shared plan, a VPS plan, or a dedicated server. We know this because, it has happened to us in the past too, with a web host that advertised 'unlimited' hosting, that wasn't really unlimited..
None of those restrictions above sound like 'Unlimited Hosting' do they, especially when the dictionary definitions of 'unlimited' are 'Infinite', and ' without restrictions and boundaries'? So how can something with 'restrictions' be 'unlimited'? Also if it was truly unlimited hosting , then you do have to ask yourself why major companies spend thousands or millions on hosting their large popular websites, when they could buy a cheap 'unlimited hosting plan for a few dollars a month?
One other thing you may also find, is that Unlimited providers may only carry out limited server backups, as it requires a lot more disk storage space to store all those additonal files. From our research of hosts offering unlimited hosting plans, some of them will only do weekly backups, while some will only do daily ones. Our own Premium Cpanel based hosting plans all have at least 3 levels of backups (Daily, Weekly, and Monthly).
It is possible that Unlimited hosting that offers truly unlimited resources does exist somewhere, but we have yet to find it in our 10 years of operation, where it is truly unlimited, without any restrictions. If you do find such a host, and they don't have any restrictions in their fine print, and have been around for several years proving they have a sustainable business model, let us know, so we can update this page. We would love to be proven wrong. If you are with a host that advertises 'Unlimited' Hosting, and you are unsure if it really is 'Unlimited', we suggest you load test their system by uploading afew Terrabytes of data, andtry to get thousands of people to visit your website at anyone time, to see how it performs.
Sometimes Cheap Web Hosting is too Cheap...
"Web Hosting is about Quality and not Quantity"
It is perfectly natural for people to shop around, to seek the best deal that they can get. However for a business seeking a quality website hosting provider, the lowest price will usually not end up being the cheapest option in the long run, if you end up having constant problems with the hosting services. Remember, that many web hosts advertise very low prices to get a constant influx of new customers. They have to, as many of their present ones leave them. The poor service and server reliability of many budget web hosting providers, means frequent changes from one host to another in search of a good one. We have had clients who have tried up to 5 different providers before settling with us. This switching of providers can be costly, whether it be in the time taken for transferring, reinstalling and reconfiguring your programs, down time of your site, lost sales, lost exposure, inability of certain programs to operate properly, etc.
You will want to choose a host that you can grow with, so it allows you to easily upgrade to larger hosting packages. One that you can afford now, can handle all your site requirements, and one that can handle any growth your website may experience. This includes future integration of e-commerce, databases, and keeping abreast of the new Internet technologies.
Ignore many Web Host ranking/review websites.
Many of the web hosting review and ranking websites that compare one web hosting provider with another, are not independently operated. Some are setup by web hosting companies themselves, or they are run by companies who charge web hosts to get their website to appear on the rating website. There maybe a few that are truly independent, but they are far and few between. Therefore we wouldn't suggest using a review or rating website as the primary way to choose a web host. One of the best ways is word of mouth, and to hear about other peoples experiences with web hosting providers. Word of mouth is how we get most of our clients.
Beware of Dodgy Website Hosts:
Unfortunately there are a lot of dodgy web hosts out there, who have given other hosting providers a bad name. New web hosts pop up every day, but the vast majority of them go out of business within their first year. When a web host goes out of business and fails to pay their bills, they will usually have their server/s removed from the network by the datacentre, which means that any website's hosted on the server, including the web host's own website, will both fail to load, and the data could be lost forever. When this happens, there is often no way to contact the web host, and essentially you will be left high and dry!
Some of the problems with some very cheap web hosts include:
Excessive amounts of regular downtime. This means that both your website and email could be inaccessible for long periods of time.
Slow server processing, due to using low spec, low powered servers.
Slow transfer speeds, which results in slow website loading, due to poor network and bandwidth providers.
Overloaded hosting servers, which result in irregular server performance during the day.
The host just disappears, and all website's, including their own, cease to exist.
TVNZ's Fair Go program has run several stories on problems people have had with some New Zealand Web Hosting providers in the past. Just google TVNZs fair go website to view them.
How to pick a dodgy Web Hosting Provider:
Some things to look out for with fly-by-night web hosts:
Their website looks unprofessional or homemade, or uses generic web hosting templates.
A significant number of spelling errors and bad grammar throughout the entire website.
Their website hasn't been updated for years. Look at the 'copyright date' at the bottom of the page on the web hosts front page, as a guide to when it was last updated. Also check to see if they have a 'latest news' page, as that will show when they last made an announcement.
The Web Hosts Company and/or Domain name has been registered for less than a year. This may mean that they don't have the technical knowledge to run a hosting business, and may not have the knowledge of what to do when things go wrong.
The Company is new to the web hosting market. This may indicate that they have unsustainable pricing for their services. This could mean that in the future they will either need to raise their hosting prices, or their company will end up going out of business, or be brought out by another company.
Web Hosting Prices look too good to be true.
No server or technical details on the servers, are displayed on the web hosts website. A web host that doesn't disclose network information, could indicate that they are using low spec web servers, or the server may not even be stored in a professional datacentre. It could be that they are hosting the server in the front room of their own house!
Hidden additional charges should you go over your allocated disk space or bandwidth limits. We know of some New Zealand web hosts who will charge $5 per additional 50MB of bandwidth if you exceed the allocated bandwidth quota! Make sure that you read their fine print and their terms of service.
Offering gimmicks or free hosting for a period of time, in an attempt to dramatically increase their client base. Such gimmicks may include a chocolate bar or even perfume.
Web hosts that send out email spam in an attempt to attract clients. Many send out literally thousands or millions of emails, and this type of company is the reason why you receive spam in the first place. If people didn't signup to services of spammers, then spamming would eventually die. Therefore never signup to anything that promotes the of activity of spamming, even if it looks like a very good deal, as it usually won't be in the long run.
Hosts that only allow you to sign up, if you sign up for a minimum of 12 months.
A New Zealand host that isn't GST registered. Not being GST registered means that the host may either be a new company and /or they are not making a large enough turnover to require them to be registered. This may indicate a small number of clients, or unsustainable web hosting pricing.

If the web hosting provider does have a professional looking website, it doesn't necessarily mean that your web host is going to be a good one. Professional website templates that come with 'royalty free images' can be purchased relatively cheaply on the internet, allowing anyone to setup a relatively professional looking web hosting website very quickly. There are even templates that can be purchased that were designed specially for web host's with almost all the images they require, allowing the web host to produce a professional website and company image. This website has them www.templatemonster.com , and as you can see the templates look very professional and polished. One thing to look out for however, is if the images on the web hosts website look too professional and generic. Tell tale signs are if they have photos of people on the website that look like models and are 'too perfect' looking.
Also if you are searching for a New Zealand Hosting provider, because you want to support the New Zealand economy by supporting a New Zealand company, do make sure that the hosting company is really a New Zealand based business. There are some webhosts that are currently targeting the New Zealand hosting market, and use New Zealand domain names, but they are actually offshore companies operating out of India, Singapore, Malaysia and Indonesia. Therefore check their company details or read their 'About Us' page, to find out more about the hosting company.
Not all Web Hosting is the Same ... Look for Professional Website Hosting Networks ...
Another thing to consider is whether you want to host your website on a Server Network, or a Single Server System.
With a Server Network, as different aspects of the hosting (eg. your email, the website, the databases it uses), are handled by different servers, and should one of the servers experience hardware failure, other aspects of your hosting should remain operational, whilst the problem server is being restored. Hosting your website on a Server Network, that divides the different aspects of the hosting onto different servers, tends to be more reliable than hosting your website on a single server system, where the single server handles everything.
With a single server system, should the single server ever encounter hardware failure, the server will experience downtime, while it is being tested and repaired. Downtime will likely affect all services including your website, email, databases, and any other services associated with your domain name, should it occur. Should a single server system encounter hard drive problems, the downtime could be significant depending on the situation, as the server would then very likely need to be restored from backup files which can be a time consuming process.
If your website hosting and email is essential to the running of your business, we recommend that that you host your website on a Professional Server Network, such as the network that we host our Corporate Hosting Plan on, which is on a New Zealand Server Network. Our Corporate Web Plan, is hosted at the Albany datacentre, in Auckland, New Zealand. Click here for more information»
Most web hosts out there, will store their clients website on a single server system, which is fine for many website's, however if you do require additional reliability, we would definitely recommend using a Professional Server Network.
Would you trust your businesses website with school kids?
This may sound like a strange question, however there are many web hosting businesses that have been setup by people who are still in school or college. These hosts are referred to in the industry as 'Kiddie Hosts' . It is certainly a good thing that there are young entrepreneurs, who are setting up their own businesses. However it is unlikely that they will have the business and hosting experience, let alone the resources and time to setup a professional and reliable hosting company. They are also highly unlikely to have the time it requires to service their clients enquiries, or troubleshooting problems.
Often web hosting companies that have been setup by younger people, will lease a single, low spec server from a datacentre, or worse, they may run the server from their own house or flat over a broadband connection. Therefore the uptime of your website, and speeds that your websites and emails load in, could be very poor.
Hosting companies that have been setup by younger people are also unlikely to be in business for longer than a year or so, so you may be left high and dry if they lose interest in their business, they want to travel or move away, or they don't make enough money for it to be worth their time. You are also unlikely to be able to contact them if things go wrong with your email or website, as they spend most of their days in school, college or university.
It is often difficult to pick a startup hosting business, from an established company, however one way to check is to visit the 'About Us' webpage on their website, and to see who you are dealing with, and how long they have been in business for. Also look at the copyright notice at the bottom of their homepage, to see how long the businesses website has been online for.
Beware of Hosting Providers who provide 'FREE Domain Names', if you prepay for a years website hosting:
There are some hosting providers who will try to hook people into using their services, by offering them a 'free domain name', if you host your website with them for a minimum of a year. Some also offer to refund the domain registration fee if you host your website with them for a year or more. The problem with some of these providers, is that they will register the domain in the name of the hosting company, instead of the domain name owner. Therefore if you ever need to change providers, it could be difficult to move providers. In some cases you may end up losing the domain name altogether. Be especially wary of overseas hosting providers who offer these 'Free Domain Name' offers, as they are not covered by New Zealand Laws, and you may find it impossible to get your domain name back if they even go out of business or you are forced to change providers.
Also if the webhosting service of the company that is offering the free domain name, isn't up to the job, you will probably need to move to another website host, and you are unlikely to get a pro rata refund on the hosting fees you have paid. Thus you end up paying more than you would have, if you had just purchased the domain by itself.
All of the domain names we register, are registered in the registrants name, and clients can manage their domain names online in real-time via our domain manager system, allowing domain owners full control over their domain name. We also openly display the domain name registration fees, and we believe that the domain registration fee and the hosting fee should be kept separate from one another, so our clients can see the true costs.
Decide whether you want to host your website on NZ servers, or on USA based servers:
We recommend that for most New Zealand Businesses, that you host your website on a high spec New Zealand based web server network, such as with our Corporate or Business Web Plans. Especially if email is integral to your business, and your website is likely to be viewed mainly in New Zealand.
Hosting website's on NZ based web servers, does tend to be slightly more expensive than hosting with NZ Web Hosting providers who use overseas servers, such as in the USA. However for about a $1 per day, hosting on NZ based servers is the best option for most businesses. Using New Zealand based web servers is also supporting New Zealand's Economy. This means that the money that you are paying for your web hosting stays in New Zealand, rather than your money going offshore.
At Super Host, with our Corporate Web Plan, we offer affordable New Zealand based hosting using both Windows 2003 and Linux servers. We also offer Affordable USA linux based hosting. Please check our hosting plans for more details, by clicking here.
We have heard of some datacentre's in more obscure parts of the world, that actually block certain ranges of IP addresses of some ISPs, if they believe they are the source of server or network abuse. This means that emails from certain parts of the world won't get through to the server, and the website on the server may be inaccessible in certain parts of the world. As the datacentres are not local, it can then be difficult to get these datacentres to remove the block on the IP addresses. With a local datacentre, it is a lot easier and quicker to deal with any datacentre issues that can arise.
Beware of Hosting Providers that only offer 12 month minimum contracts:
There are some web hosts that only allow you to signup to their web hosting, if you pay for a minimum of 12 months. There are others that offer substantial discounts if you prepay for your web hosting for a year. The truth is, it shouldn't make any difference to your web host if you pay monthly or yearly, and this is why we don't discount our hosting for people who pay a year in advance, as it doesn't make any difference to us.
Many of these companies that only accept payment a year in advance, make their money from a constant influx of new customers, and not by providing the service to the ones they have.
At SuperHost most of our hosting plans can be paid monthly, allowing you to cancel your hosting without being tied into a long term fixed contract. We do have some discount, low cost hosting plans that can only be paid annually, however this is because it would be uneconomical for us to break up the payments into smaller intervals.
Watch out for odd Billing Periods:
Watch out for web host's that state their hosting prices per 28 days, instead of per calendar month. Over a year you will actually be making 13 payments, and not 12 payments per year. We charge our hosting plans per calendar month, which makes billing cycles a lot less confusing.
Other things to watch out for include companies that charge in US dollars instead of NZ dollars.
You don't need to use your ISP to host your website:
Many people decide to use their ISP (the company they connect to the internet with) to also host their website and to purchase their domain name. This will tend to be a lot more costly than if you were to choose a standalone hosting provider.
Usually ISP's will offer web hosting services, with substantially less features than specialist hosting providers. Many don't even provide a hosting control panel.
ISP's do not offer any advantages over companies that are solely in the hosting business. ISP's core business is providing internet access to their clients, and many ISP's that excel at that are, deficient in the hosting services they offer. Some ISP's have strict file restrictions that make them impractical for all but the simplest of sites. There may be attractive financial packages from combined services with your ISP, but these can be secondary or tertiary to more important concerns, over the quality of the hosting services they provide.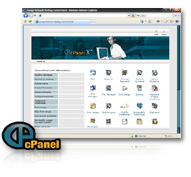 Choose a host with a Quality Hosting Control Panel:
Just as there is a wide range of web hosting providers out there, there are also a great variety of Control Panels that are offered with web hosting plans. A hosting control panel allows anyone using their internet browser, to self manage their website hosting and email, including setting up new email accounts. All of Super Hosts hosting plans include a control panel.
Many of the control panels that some of the budget web hosts offer, are difficult, cumbersome, and confusing to use, and don't offer the functionality and features of the hosting control panels that we use.
The main control panel we use is cPanel™, which is the worlds leading hosting control panel. cPanel™ is widely regarded as one of the best, feature rich, and easiest to use hosting control panels that are available. Click here for more information on cPanel™»
One of the beauties of cPanel™ is that it has a lot of free add on software, that allows users to easily and quickly install free open source software into their website, with just a few clicks of the mouse. This software is called Softaculous Premium, and the software that is included with it include shopping carts, CMS, Blogs, Image Galleries, Web Polls, plus many other great programs. Click here for more information on Softaculous Premium»
Our Corporate Web Hosting Plan uses a slightly different Hosting Control Panel from cPanel™. The Corporate Web Control Panel has been developed here in New Zealand. It is also an excellent and easy to use control panel, however it doesn't have quite the same number of features as add on scripts as cPanel™ offers. Click here for more info »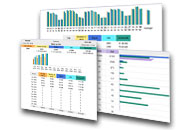 Statistical Reporting
Choose a web host that offers web site statistics. This will allow you to track how visitors are finding your site, and where they come from as well as much more.
At SuperHost, all our hosting plans come with web site statistics that are generated and updated daily. Click here for more info.
NZ Web Hosting Reviews
There are a lot of web hosting review websites out there. However some of these are owned and operated by web hosting companies, so are not independant. Therefore they have control over any reviews or rankings that are witten about them, so may not allow negative reviews to be posted about them, but will allow them to be posted about others. There are other website review websites that web hosts can pay to rank highly on them. Anyone looking for a web host should take any reviews and ratings with a grain of salt.
What makes SuperHost different from other hosting providers: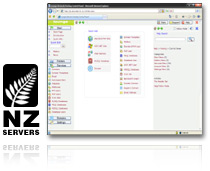 Well for a start, we are one of only a handful of NZ website hosts that offer high quality reliable website hosting on NZ based web servers, as well as affordable high spec hosting on USA based web servers. Our New Zealand based Website Hosting provides a choice of Windows 2003 or Linux server environments, and also comes with a New Zealand developed Hosting Control Panel. Click here for more info »
We are 100% New Zealand owned and operated, this means that our staff are NZ based, and therefore you are communicating with real Kiwis, in your own time zone. We also cater solely to the New Zealand market.
We don't oversell our hosting. Basically we allocate the disk space to each hosting client, and once all the allocated disk space on the server has been allocated, we cease setting up further hosting accounts on the server, and instead begin setting up new hosting accounts on a new server.
What many low cost hosts do instead, is 'oversell' the disk space on their server, as they will assume that a certain percentage of their clients will never use much of the disk space that they have rented. This can mean that the web host could literally fit many thousands of website's onto a single server, thus overloading the server. This potentially may create a problem overtime as clients on the server use more and more disk space and processing power, which could end up affecting the performance of everyone's website on that server.
Our USA servers, which is used for our cPanel™ hosting plans, has transit from Level 3 and ATT(Mzima), Savvis, and Global Crossing. That means that there are 4 Tier 1 bandwidth providers. This is a premium, exclusive network that gives all of our hosting clients on the USA network, a major advantage over other USA hosted servers, regardless of geographic regions. Very few hosting providers are able to provide this level of network connectivity and bandwidth providers.
We have been providing web hosting since 2001, so we have a comprehensive knowledge of the hosting & domain registration industry. Should you ever encounter an issue with your hosting, it is almost a certainty that we have solved the issue before. We also provide an offsite 'Network Status' page, which displays announcements should any server issues occur. Click here to view our Network Status Page»
We believe that we have some of the largest, most feature rich, and best value web hosting plans available anywhere on the New Zealand market today. We offer free setup on all hosting plans when you sign up with us, and you can change hosting providers at any time. Click here for more information about SuperHost »
Thank you for taking the time to read this, and hope it was useful.
All material contained in the above document, remains the property of SuperHost. All opinions discussed in this document are those of SuperHost. All the material on this page has the protection of international copyright. All rights reserved. Content within this page cannot be reproduced without the permission of the author.