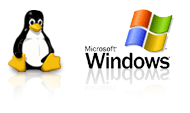 Deciding whether you would like host on a Linux or Windows hosting environment, all depends on what software and scripts you will be running on your website.
For simple static websites, it really makes no difference which platform you host your website on, however we recommend Linux. With linux there is a lot more Open Source software (free to use) available for it, should you wish to add more features to your website in the future.
Irrespective of whether your website is on a Windows server, or on a Linux server, the end user who is browsing your website on the internet, will not notice any difference when browsing your website. The difference between a Windows and Linux hosting platform is solely in the backend software on the server.
For the vast majority of websites, hosting your website on a linux server would be the best option, and you would only look at hosting your website on a Windows server, if you or your website's developer was planning on programming in Microsoft's ASP programming language.
Reliability wise, Linux is cosnidered more reliable and secure than Windows, especially older versions of windows.